Paul Berg – a changing robe created by Estonians that has made its way to the hearts of sports enthusiasts in no time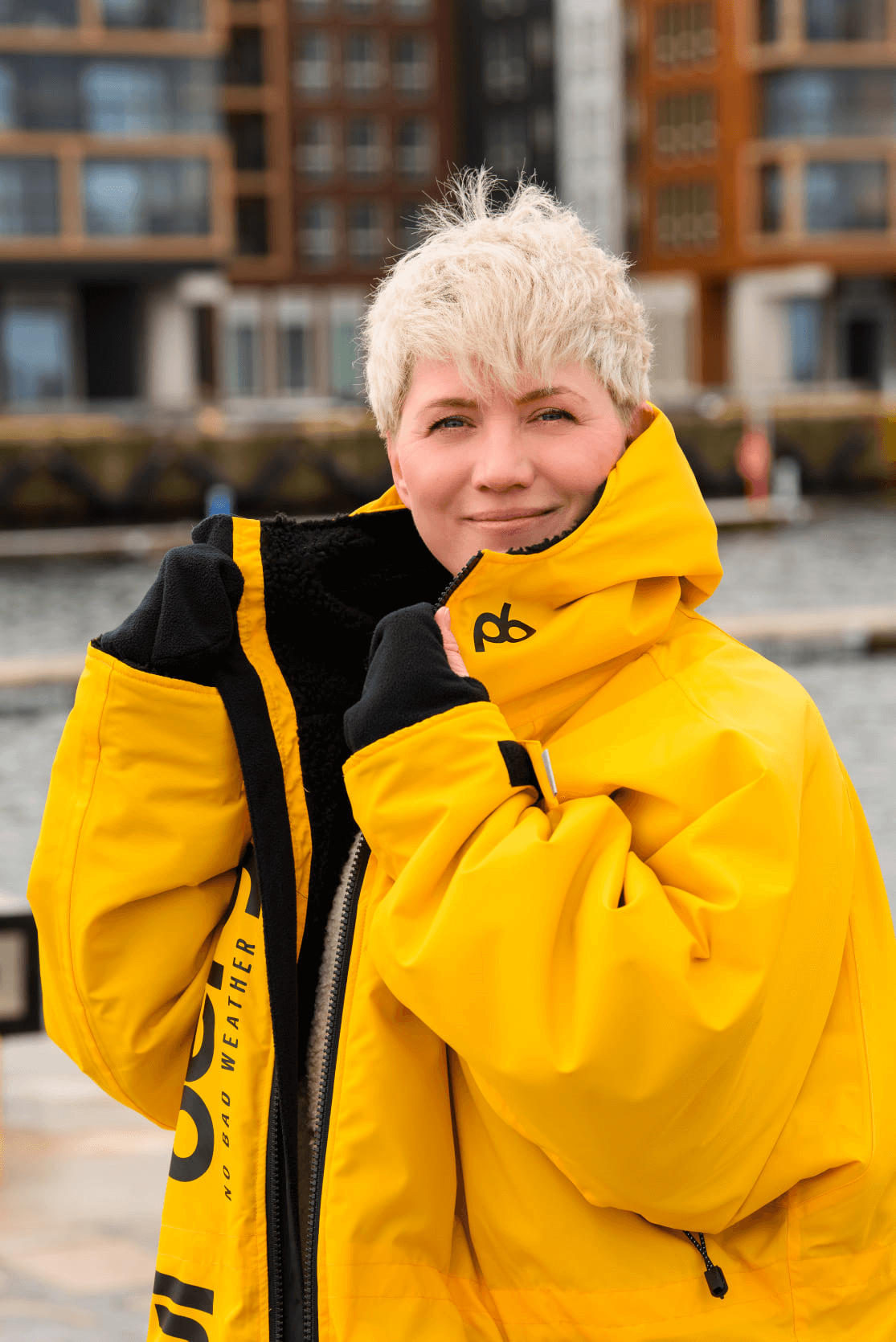 Despite the fact that the past year has severely limited our recreational outlooks, people have still found new ways to keep their bodies and minds in shape.
One of which is winter swimming. During the last winter season, the number of new winter swimmers increased drastically. Hit by inspiration, three Estonians decided to create Paul Berg.
Paul Berg is a brand-new outerwear company with a team of three: Mari, Kerly and Egert. The shared journey began in a rather remarkable way. Life companions, Mari and Egert, and their mutual friend Kerly all had been thinking to themselves that field sports enthusiasts in the Nordic countries desperately need a weather proof changing robe.
"A few years ago, my life companion Mari told me about her physiotherapist who was into winter swimming, and that she/he truly recommended it. Despite that, neither of us picked it up, and that was that. Sometime later, I read an in-depth article about winter swimming and the sports gear that it requires. This inspired me to explore this topic a bit more, especially the sports gear part. At one point, while stuck at home during the coronavirus pandemic, I decided to give it a try and make one of these robes that had become so popular among winter swimmers all over the world, myself. At the time, there were a lot of people interested in such a robe, but no one offered it here in Estonia. I had just shared my idea with Mari when one day our friend Kerly called. She had had the exact same idea some time ago. I can't believe the scope of this coincidence to this day!" Egert says.
Destiny brought people together
Although Kerly and Mari had known each other for a long time, they hadn't been in contact for over ten years. Until this mutual idea brought them back together: "This was unbelievable indeed, how our paths crossed at the end of last year after I had come to the idea to create a special clothing for winter swimmers. The idea had hit me regarding swimming in Estonia. I had never been much of a swimmer, especially in my homeland, but last year I took it up more seriously. I was truly inspired by a winter swimmers club called "Vääna-Jõesuu Vigrid". Today, I go swimming all the time, despite the weather," Kerly says.
"My main motivation for spending more time in the water was my own health. As soon as I heard that winter swimming may help against some health issues, I thought to myself that there's no better time to start than now. I tried it and it helped! Thanks to this, I ended up with the idea of creating a special gear for winter swimmers, but for other field sports enthusiasts as well, to help keep them warm and comfy. Since I had previously worked together with Mari at Ivo Nikkolo's clothing line, and Mari has worked in the clothing industry for a long time, I had no other choice but to share my idea and just go for it," Kerly says.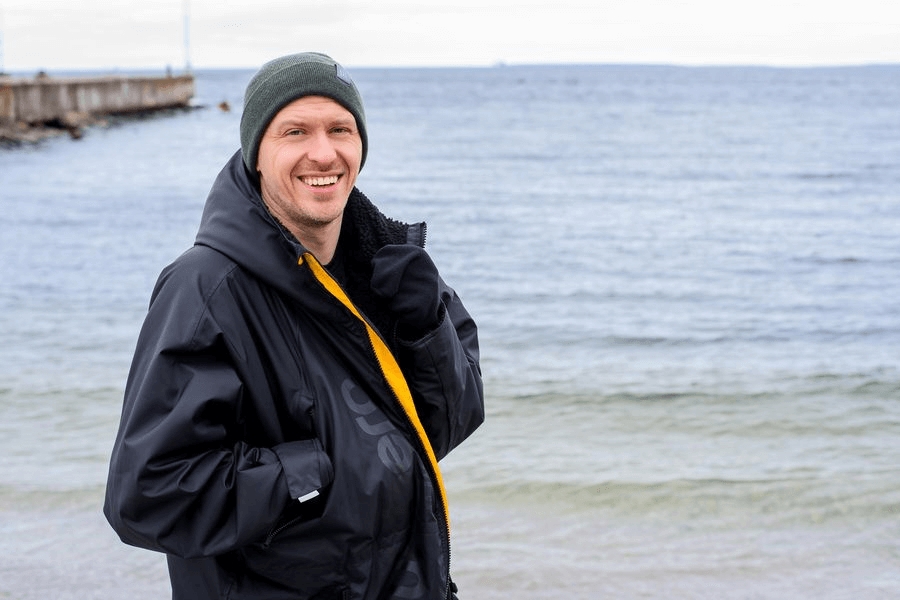 After the initial discussion it was clear to all three that this idea simply had to grow into something much bigger, and together they began with extensive preparation work. To know what the fuss was about, Egert and Mari also had no other option but to try out winter swimming for themselves as well.
"As soon as the idea had been talked through, we started doing the work. It was the perfect opportunity for Mari, stuck at home during lockdown, to start creating something new and useful for all the Estonians out there that had grown fond of winter swimming. Although, unlike Kerly, Mari and I needed a lot more time to prepare ourselves mentally, we finally did our first winter swimming on the morning of Christmas Eve last year, and it slowly started to become our hobby," Egert adds.
Interest among sports enthusiasts surprisingly high
In addition to the mutual idea, the fact that more and more Estonians are doing winter swimming also grew the enthusiasm of the trio. Although, according to Egert, extensive research that confirmed people's growing interest in winter swimming, also played an important role: "We started asking around among winter swimmers themselves about their expectations regarding this product. As it turned out, the interest was significant, although these types of changing robes were not extensively used in Estonia, and some of the respondents hadn't even heard of them. This encouraged us to keep going, because there clearly was a demand for it."
"The biggest enthusiasts were actually winter swimmers themselves. As it turned out, it's an active and inspiring community that cares a great deal about healthy life choices, and the feeling of happiness and gratefulness you experience after a swim. It can be said that our clients have been our greatest motivators while creating this product," Kerly adds.
Differs by design and safety
Although there are a number of changing robe manufacturers all over Europe, Paul Berg's creators aimed at creating a model best fit for the Nordic people: brighter, safer and warmer. "We want to do it bolder and better. Starting with a more comfortable cut for athletes, and ending with super warm lining and extra reflectors for safety. This product has to be the best choice for Scandinavians," Kerly says.
This tiny but energetic team's first Paul Berg prototype was ready by February this year, just a few months after their initial meeting, and was handed over to their first client only a month later.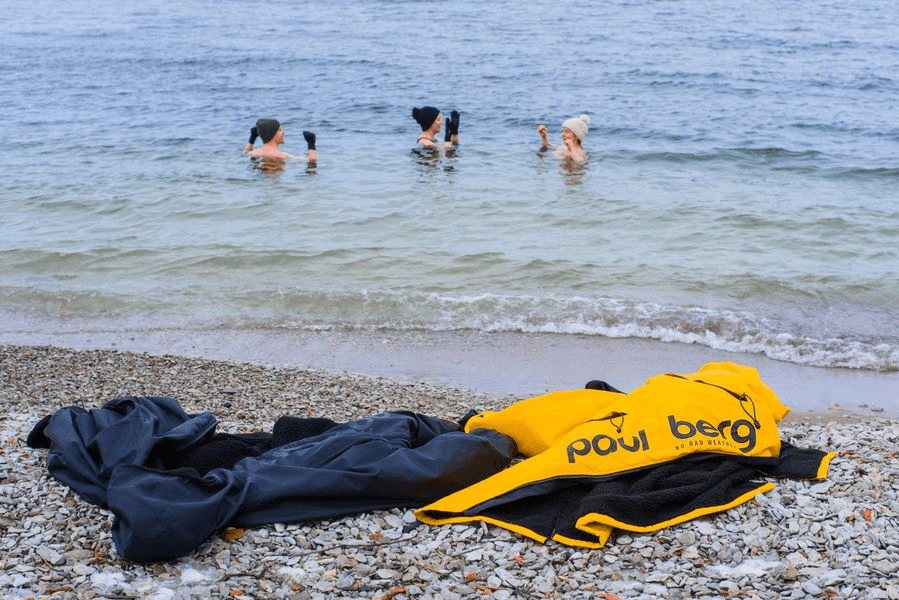 Feedback surprisingly positive
Even though Paul Berg has not been around that long, it has made its way to the hearts of winter swimmers and other field sports enthusiasts in no time. According to Egert, users' feedback has been crucial for developing the product, as well as the company even further: "We sort of new what people's expectations were like, and by analysing our competitors' products, we knew what it was that we had to do better. We are constantly asking for feedback, during the development process, but also today, to know which way to keep the course."
"People's interest in Paul Berg has been surprisingly high, and those that have already purchased it, have said nothing but good about it. The main thing that people appreciate about Paul Berg is its level of quality," Mari adds.
Next stop – Scandinavia
Although up until now, Paul Berg has mainly reached Estonian sports enthusiasts, Mari's, Kerly's and Egert's perspective is vastly wider – the robe must surely find its place in the Scandinavian market as well. According to Egert, today people are definitely interested in the product: "I carried out a survey among Finns, who are even bigger winter swimming enthusiasts than Estonians, to find out what they knew about similar products, and whether they used one or not. As it turned out, only a few of the respondents used a similar robe on a daily basis, and more than half of them hadn't even heard of it. We are definitely planning to grow bigger. Why not, when there's clear interest in our product! You have to aim high, and Paul Berg surely does so."
Learn more about Paul Berg's products on www.paulberg.eu
Paul Berg –
Break out of your comfort zone. / Accept the challenges. / Let's be daredevils. Together.